PS-37 is planned to be released at 10am Sun 8/3/2015 from Deniliquin, NSW.
This is an UP/DOWN balloon flight, aiming for high altitude of around 40,000m.
Details:
– LATEX 1600g balloon
– APRS on 145.175Mhz, 30mW, call sign VK3YT-11
– Primary tracker RTTY 100baud, 600Hz shift, 8N1 on 434.650Mhz (Dial 434.649Mhz), 10mW, callsign PS-37, RSID enabled.
– Backup tracker RTTY 100baud, 450Hz shift, 8N1 on 432.220Mhz (Dial ~432,219Mhz), 10mW, callsign PSCD, with CW ID for VK3YT.
APRS tracking on aprs.fi http://aprs.fi/#!mt=roadmap&z=11&call=VK3YT-11
RTTY tracking on SNUS http://tracker.habhub.org/?filter=PS-37;PSCD
Tracking instructions: http://picospace.net/?p=736
Update
PS-37 was released as planned at 10am Sun 8/3/2015 AEST. It got to 40,903m altitude before bursting.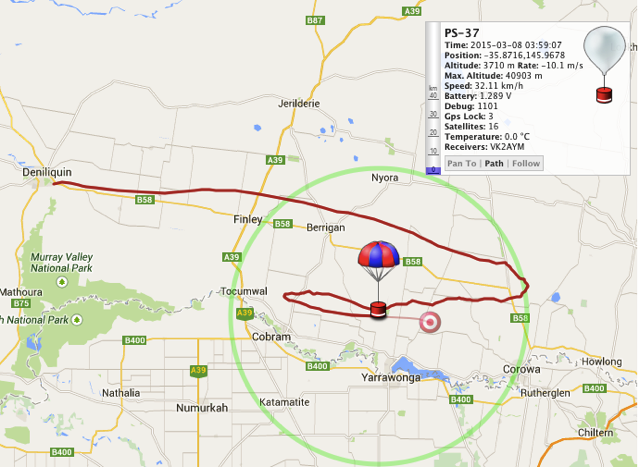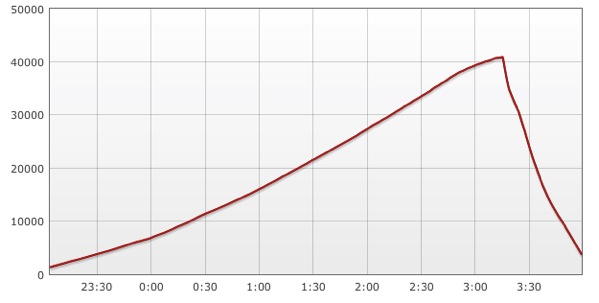 Thanks to everyone for assistance with tracking.