PS-41 is in the air on Easter Monday.
Solar powered 25mW TX, WSPR and JT9, dial frequencies 10.138700Mhz and 14.095600Mhz
HF decoding info at http://picospace.net/?cat=34
Tracking as PS-41 on SNUS http://picospace.net/tracker/new
WSPR call sign is VK3YT http://wsprnet.org/olddb?findcall=vk3yt
Prediction: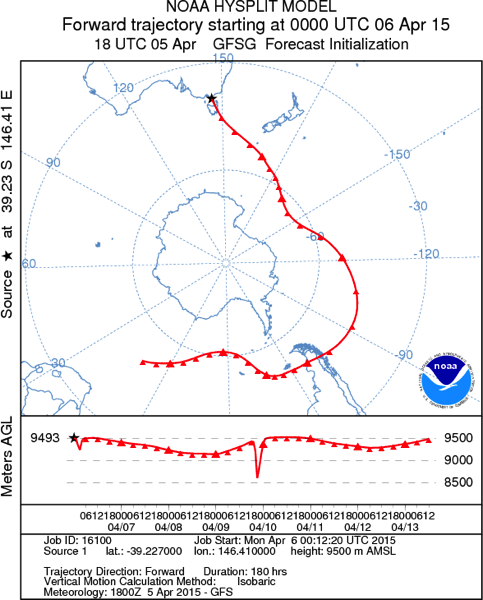 Update #1 8am 11/4/2015 AEST
PS-41 got to South America overnight.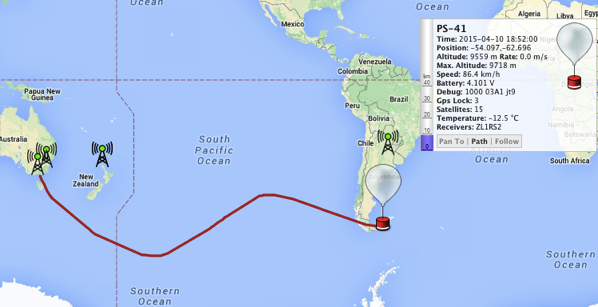 It's been good going in the last 6 days, with the longest distance for JT9 packets being received so far for a PS payload from Ireland by Ei2KK while being in the South Pacific.
Update #2 10am 12/4/2015 AEST
Reception from the balloon after South America has been difficult with the flight path and availability of tracking station.
Only one WSPR spot was received overnight, showing PS-41 South of South Georgia and The South Sandwitch Islands.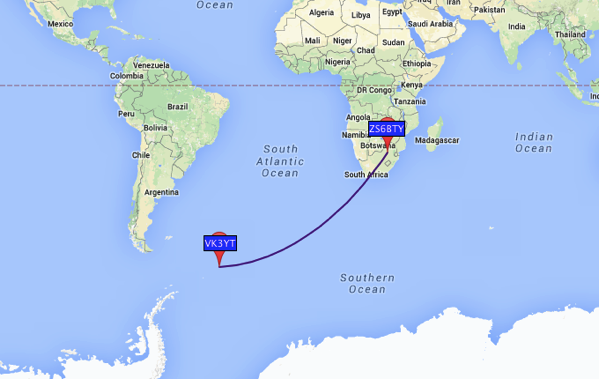 Prediction: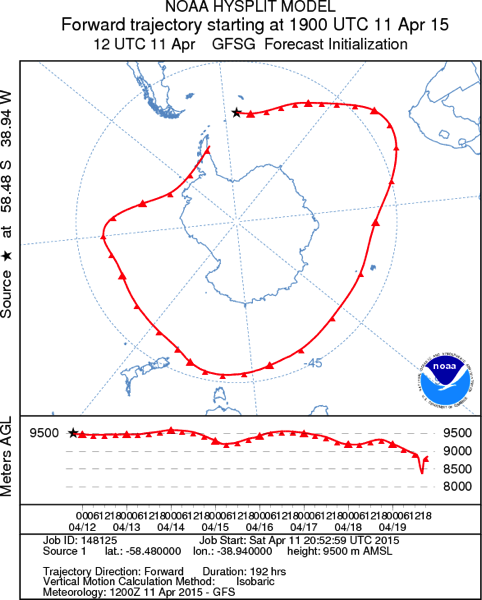 Update #3 7pm 13/4/2015 AEST
PS-41 has been picked up by the South Africa hams on JT9. We also got a number of WSPR spots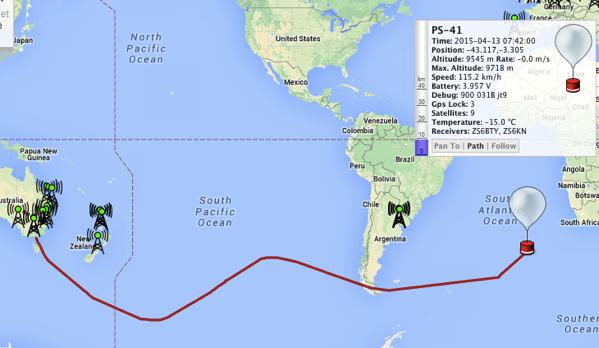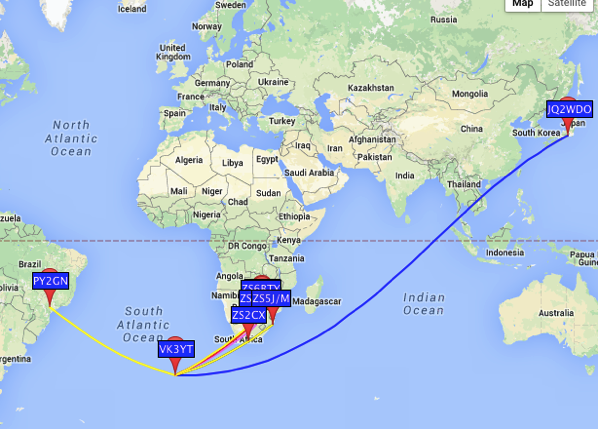 Update #4 8pm 14/4/2015 AEST
PS-41 is over the Indian Ocean, on the last leg to come home!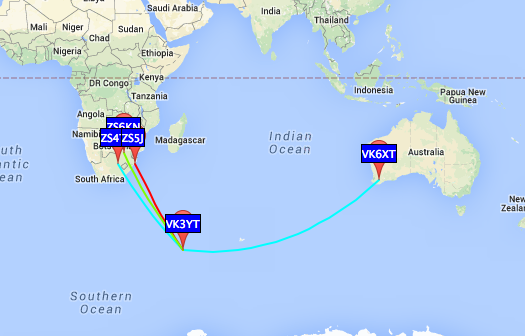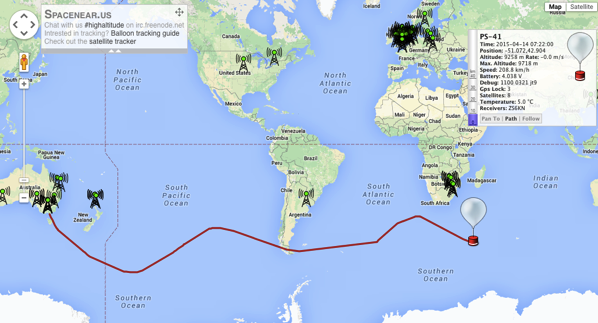 This is a nice capture earlier today, of PS-41 and PS-42 in the twilight zones at sunrise and sunset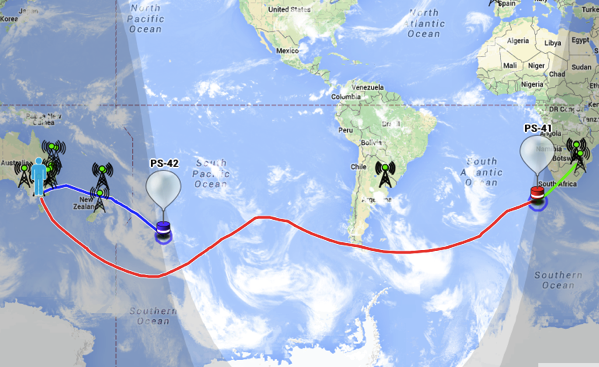 Prediction: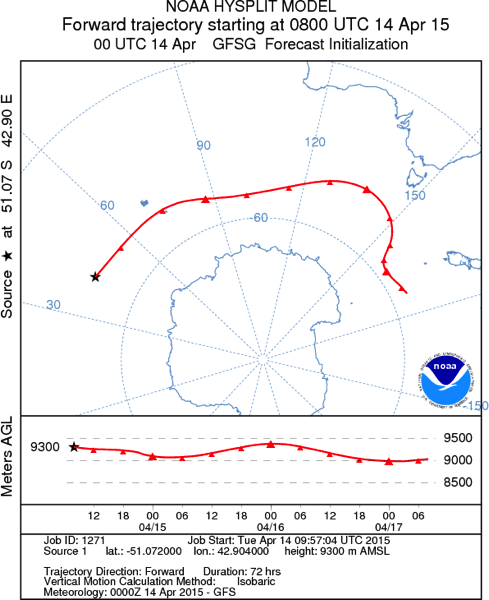 Update #5 7pm 16/4/2015 AEST
PS-41 crossed the starting longitude of 144.903 at 11:20am AEST (1:20am UTC) this morning, completing the first Picospace around-the-world trip.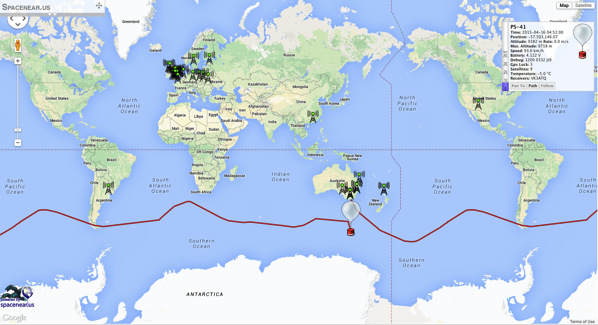 The total travelled time was approx 10 days and 3 hours.
Big thank-you to everyone that have been assisting with tracking, this trip would not have been possible without you, especially the RX stations:
EI2KK LU5FF VK1JA VK1KW VK2DDI VK2FAK VK2IUW VK2XN VK3ATQ VK3DXE VK3KCX VK3YSP VK4RV VK5EI VK5PP VK6XT WA5DJJ ZL1RS ZL2IK ZL3LSD ZL3TRR ZS2CX ZS6BMN ZS6BTY ZS6GC ZS6KN
Update #6 8pm 22/4/2015 AEST
PS-41 went south towards Antarctica and then headed East towards South America.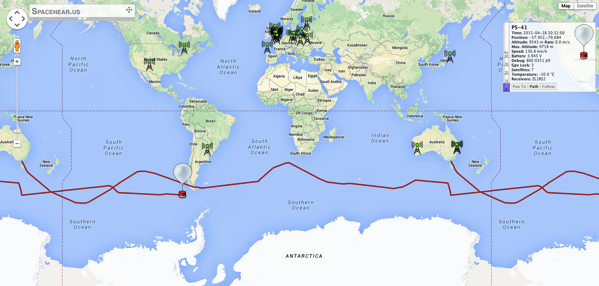 Somewhere near South America, PS-41 went down marking the end of an amazing trip!