PS-42 is in the air for some testing.
This will be tracked in parallel with PS-41
Solar powered party balloon, 25mW TX
TX WSPR, JT9 on 30m and 20m
Dial frequency 10.138700Mhz and 14.095600Mhz (standard WSPR dial frequencies) for WSPR, JT9.
PS-41 is at 900Hz and PS-42 is at 1100Hz on the waterfall.
See HF decoding info at http://picospace.net/?cat=34
Tracking as PS-42 on SNUS http://picospace.net/tracker/new
WSPR call sign is VK3ANH http://wsprnet.org/olddb?findcall=vk3anh
Update #1 7pm 13/4/2015 AEST
PS-42 crossed the international dateline earlier today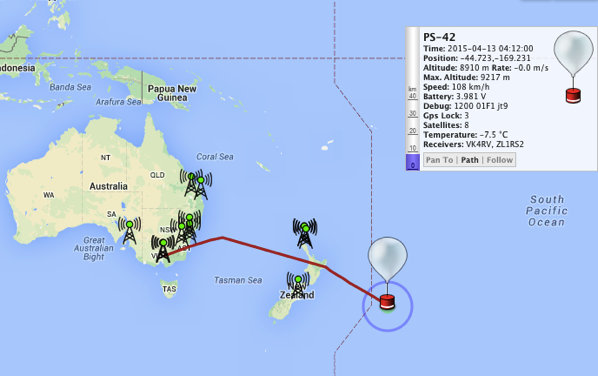 Prediction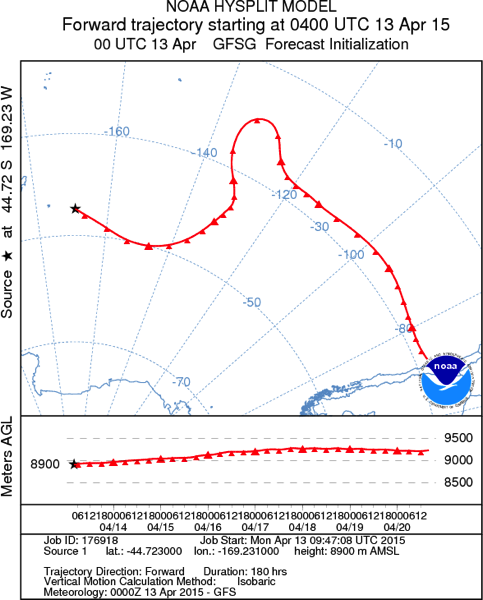 Update #2 8pm 16/4/2015 AEST
PS-42 is taking its time in the Pacific. Probably not a bad idea considering all the attention was on PS-41 crossing the initial starting line.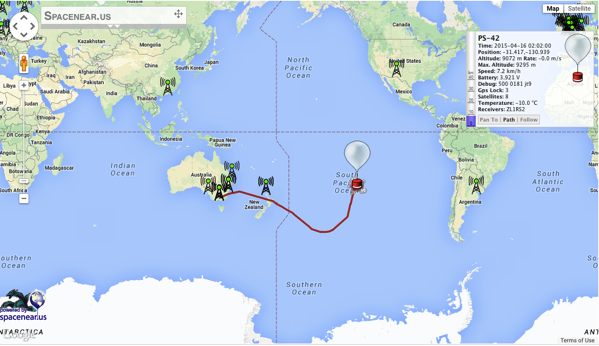 Updaet #3 9pm 22/4/2015 AEST
PS-42 went down near South America around the same time as PS-41 completed the lap.